Electronics and Telecommunication Engineering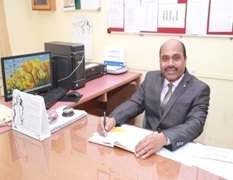 Prof. (Dr.) Sandip R. Patil

M.E., Ph.D.
Electronics and Telecommunication Engg. Department was established in the year 2001 with the intake of 60 students. With the increase in intake of 60 in 2006-07 for UG and a new PG course of intake 18 in 2013-14; our department is continuously getting upgraded. Department has highly qualified faculty. Well planned infrastructure to satisfy growing needs of educational environment, supported with latest hardware and software tools like MATLAB, Xilinx, and LABVIEW etc.

The aim of the faculty apart from imparting quality education in classrooms & laboratories is to include technical creativity in their students. State of the art excellent facilities are provided in the department to facilitate the staff to achieve this aim. The E&TC department tries to give each student an edge over other as they can set their feet in today's highly competitive age.

As being the largest department in the institute our maximum focus is on research activities.